With the patented design of the Quantum reactor, the quality of mixing is greater on many levels. Through our engineering it is possible to use the Quantum reactor as the following:


High Solid:  Liquid Ratio Mixer

Sonification Mixer

High Intensity Mixer

Solid, Liquid, Gas Mixer

Non-Neutonian Mixer

High Viscocity Mixer

Cavitation Mixer

Paint Dispersion Mixer

With this many applications of the reactor we have proven the ability to prevent settling of solids through mixing to the point where the mixture can be held in suspension an extremely long period of time and occasionally forever. 

Quantum Technologies has used the reactor/mixer in the following applications:
Paint Dispersion, Iron Oxide Dispersion, Precipitated Calcium Carbonate, Mixing using Catalyst, Saturation Mixing, Production of Hypochlorous Acid among others.


HIGH TEMPERATURE, HIGH PRESSURE BOWL
The High Temperature, High Pressure (HTP) Bowl will allow you to safely and conveniently conduct high temperature, high pressure experiments accurately and consistently without adversely effecting the physical characteristics of the pulp.
Incorporate several features to allow high temperature, high pressure experiments to be conducted in a safe environment. 

Pressure transducer accurately measures pressure in bowl. lts flush mount design eliminates any possibilities of pulp plugging.

Quickly and easily relieves pressure in the bowl without the worry of steam build-up. This is done through the special evacuation system.

Be able to inject up to 100 mL of chemicals into the bowl without leaving any residual chemicals in the piping. This can be done with our new pressurized 100 mL injector.

Fit any Quantum Mark Platform.

Be available in a 2-L or 4-L size bowl.

Be Stainless Steel with a Teflon Coating.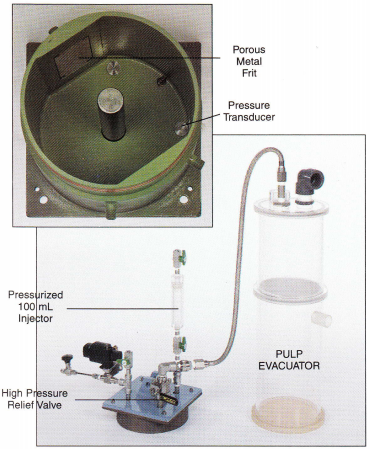 This new design is:
Compatible with any bleaching chemical, including peroxide. There will be no degradation of the peroxide at high 

temperature and pressure due to reaction with metallurgy.

Equipped with a pressurized injectionsystem.

Able to relieve pressure quickly with the help of pulp evacuator.

Equipped with pressure transducer that is flush mount with the bottom of the bowl. 

This transducer works 0-200 psig, -40'C-149'C.
USES WITH THE QUANTUM MIXER
By toking advantage of the Quantum Mark V Mixer/Reactor's ability to monitor and regulate pH, and to mix small amounts of chemical homogeneously into large amounts of sample, it is possible to design and execute the following:
Hydrogen Peroxide Bleaching

Peracid Bleaching

Oxidative Extraction

Oxygen Delignification
Contact us today for step-by-step procedures on the above processes.