Quantum Technologies' Liquor Oxidizer reactor is available in 28", 36", 48" (0.71m, 0.91m, 1.22m) diameter and can be engineered and designed to the customer's specifications.  A nominal 50-70 gallon per minute (190 l/min – 760 l/min) White/Green Liquor oxidizer process mounted on a 28' x 9' (8.53m x 2.74m) skid, fully automated and available for our purchase or plant trial. The unit requires electricity, oxygen, liquor feed, take-away piping and depending upon the application, cooling or heating water.  

Click to download our brochure on the Advantages of Using White/Green Liquor Oxidation Process
Clicker to download our brochure on the White/Green Liquor Oxidation Process
Quantum Reactor/Mixer
The Quantum Reactor/Mixer is now a commercial reactor within the Pulp & Paper Industry and can be commercialized in other industries.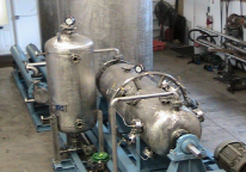 Green Liquor Oxidizer (Q-GLO)

Quantum Technologys' green liquor oxidizer and process is a breakthrough in the pulp and paper industry.  Our unique process is able to fully
oxidize green liquor with oxygen (with a purity of 94% or greater).  Fully oxidized green liquor can be used as a cooking liquor, bleaching chemical and as a source of NaOH through the entire mill.
Can be used as:
Cooking liquor
Bleaching chemical
Source of NaOH
Scrubbing solution
Semi-Chem Replacement Sulfite Chemical
Mechanical Pulp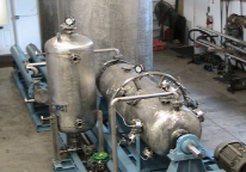 White Liquor Oxidizer (Q-OWL)

The Quantum Q-OWL process takes white liquor directly from the clarifier into a break-seal tank, pumps it into the X-O ThermTM reactor (patent pending) where it is mixed with pressurized oxygen, then to a gas/liquid
separator where the oxidized white liquor is piped to the process. The process is completely automated. The energy savings reduces the cost of oxygen and power by as much as 90%. With a reaction rate 100 times faster than a stirred tank, the reactor and the entier Q-OWL process is much smaller than an equivalent system based on a stirred tank. A 50-200 gpm (189 liter-757 liter) process occupies a floor space of approximately 28′ x 9′ x 10′, (8.53m x 2.74m x 3.05m) mounted on 2 skids.  Click here for a brochure.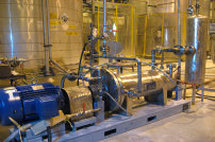 Carbonator

The Carbonator is uniquely designed for producing nano-size particles with narrow distribution. Particle size can be varied from 10 microns, 1 micron to submicrons. Different crystal structures have been formulated
by simple variations within the reactor. Through the patented configuration, sonification has been known to exist and can be applied for unusual chemical reactions when they are needed. Significant improvements in mass transfer coefficient can be as high as 10,000 to 1 over a conventional constant stirred tank (CST). The g/l ratio has a wide variation of acceptable limits almost infinite to infinite. The Carbonator can mix gas, liquids and/or solids in a short time interval through our improvements in mass transfer. 

The Carbonator use can be for but not limited to:
Liquid-Gas Reaction
Liquid-Liquid Reaction
Liquid-Solid Reaction
Solid-Gas Reaction
Liquid-Solid-Gas Reaction
Gas-Gas Reaction
pH Control
Oxidation Reactions
Ozonation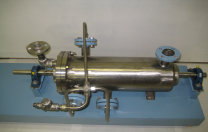 Custom Built Reactors

At Quantum Technologies we provide over 30 years of experience in the research and engineering field. Over the years we have been able to
tailor to many unique needs of our clients. We have engineered and built many one-of-a-kind reactors, for example; a reactor being able to withstand temperatures in excess of 2000 degrees F, a reactor designed to tolerate pressures of 1000 psig, a reactor for the purpose of producing Low Salt Sodium Hypochloride, among many others. If there is a chemical reaction or mixing problem that your company may be having, we encourage you to contact us for a free consultation and presentation of our company and products.